Site Seeing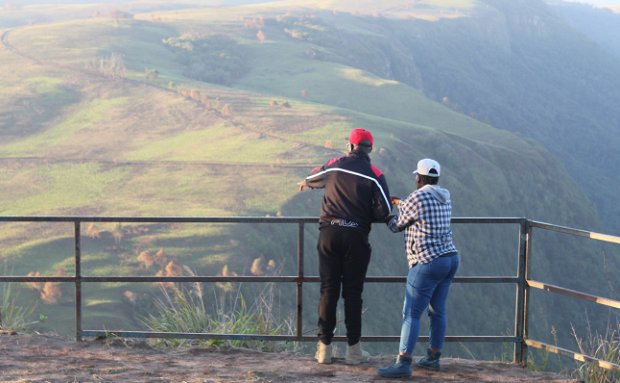 Nyanga is well known for housing breath taking views. This is what makes Nyanga one of the most chosen destination in Zimbabwe. The cascading rivers, the valleys, the gorges, the streams and the waterfalls. The views stretch from Nyanga, Honde Valley into Mozambique. Some views in Nyanga will remind you of Scotland and others Arizona. All this cannot be missed when you pay us a visit as you get to experiejce the best of Nyanga.
WORLD`S VIEW 
World's View is a spectacular vista on the escarpment of the Nyanga Downs plateau in the Eastern Highlands mountain range, just north of Nyanga, in eastern Zimbabwe. It is situated at an altitude of 2,248 metres (7,375 ft) with a 600 metres (2,000 ft) drop to the plain below on the western side. The viewpoint is just outside the northern edge of the Nyanga National Park and can be reached via an 11 km track from Trout-beck. On a clear day, places as far away as 60 to 70 km can be seen. 
PUNGWE VIEW 
This is a stunning view of the Pungwe Falls and Pungwe gorge from the other end of the park. This breath-taking view is just a short highlight of many other views in the Eastern Highlands. This is a must visit place and  accessible with offroad vehicles.
HONDE VALLEY VIEW & TEA PLANTATIONS 
The view of Honde Valley is quiet stunning from the top. This is the Lowveld part of Eastern highlands with a passage of banana trees and stunning tea plantations. This is also one area which is most fertile with numerous crops grown throughout the year. As part of your experience you will notice quite a number of local farmers selling the produce in the streets or waiting for transport to take their produce to the capital city. A trip to Honde Valley & Aberfoyle lodge will conclude your experience. We recommend you have lunch at Aberfoyle Lodge during this Tour.